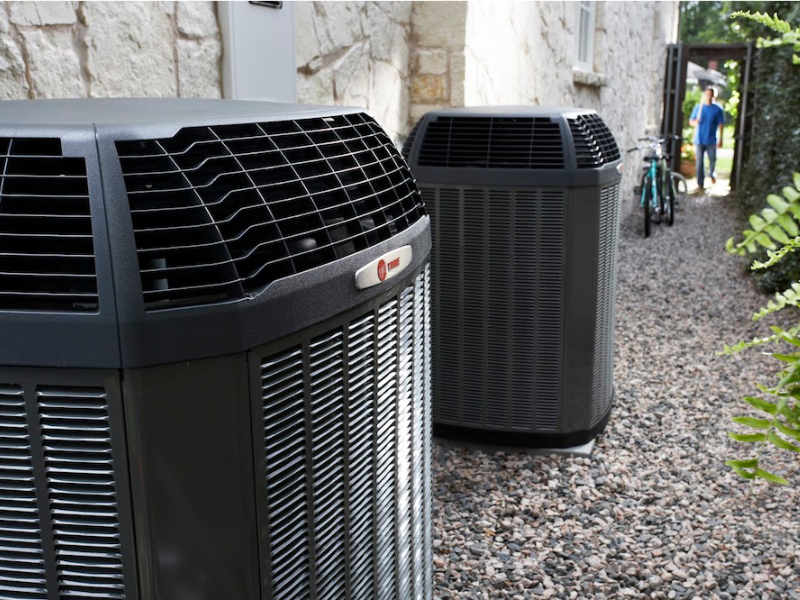 25 Feb

What HVAC brand should you choose?
Top HVAC Brands: Trane, Goodman, Lennox among the best
TMC uses the top names in the industry when replacing an HVAC system.
From brands that range from Trane, Goodman and Lennox, our products offer homeowners the best HVAC systems available.
Like all things, cost depends on many things, so call us for an estimate to receive the most accurate cost.
Trane HVAC
Trane Inc. is a subsidiary of Ireland-based Ingersoll Rand. In addition to its manufacturing HVAC systems, Trane is involved in energy conservation and renewable energy projects.
For example, Europe's largest cooling system is powered by Trane. The Channel Tunnel that connects the United Kingdom and France are cooled by four Series E CenTraVac large-capacity (2600 kW to 14,000 kW) chillers from Trane. 
How much does a Trane HVAC cost?
The cost of a Trane HVAC can range from $4,800 to $10,000, including installation costs. The price depends on the size of the HVAC unit needed for your home.
How long does a Trane HVAC last?
The cost may seem like a lot, but consider the average lifespan for a Trane is 15-20 years. We recommend exploring replacement every 10-15 in order to upgrade to a more efficient model.
Goodman HVAC
Goodman HVAC systems are produced by Houston-based Daikin Group, the world's largest manufacturer of residential heating, ventilation and air conditioning products and systems.
Goodman specializes in manufacturing residential split air conditioners and heat pumps, gas furnaces, air handlers and coils, packaged unit, and ComfortNet controls and thermostats.
How much does a Goodman HVAC cost?
The cost of a Goodman HVAC system ranges from about $3,500 for a 1.5-ton unit to more than $5,000 for a 5-ton, installation included.
How long does a Goodman HVAC last?
The average life of a Goodman HVAC is 15-20 years. But, in the long-run, replacement more often can be more cost effective for maintenance fees and energy bills.
Lennox HVAC
Lennox HVAC units are produced by Iowa-based Lennox International.
The global company produces heating, ventilation, air conditioning HVAC units and solutions for the refrigeration markets. Lennox also includes the Heatcraft Refrigeration and Armstrong brands.
How much does a Lennox HVAC cost?
The average cost to install a Lennox HVAC unit is $2,500 to $4,200, but largely depends on the size needed for your home and any repairs needed to the duct system.
How long does a Lennox HVAC last?
Like the other brands, the average lifespan of a Lennox HVAC system is 15-20 years. The Department of Energy recommends that homeowners should replace their systems every 10 to 15 years because of advancements in technology. Newer air conditioners are more durable, however major components begin to breakdown around 10 years depending on how often you use and maintain them.