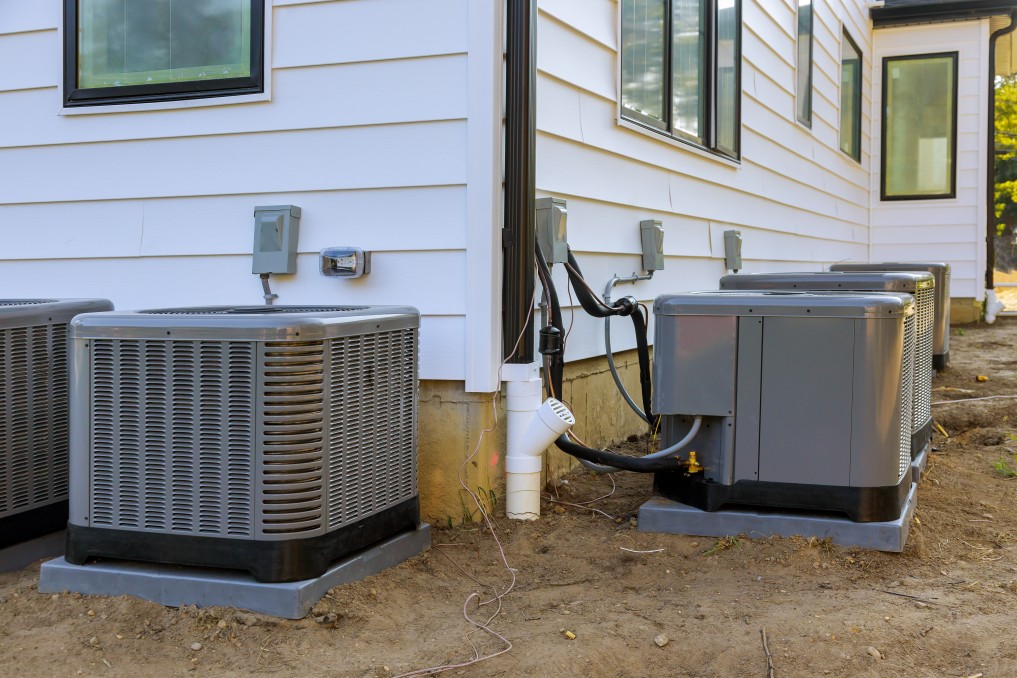 08 Feb

Understanding HVAC system costs
Heating and air unit, ductwork contribute to total HVAC system costs
The HVAC system is a critical component in any property. As well as keeping the interior temperature comfortable, heating and air conditioning systems can affect the air quality and energy-efficiency of a home or commercial unit.
Due to this, it's important to choose an HVAC system that's well-suited to your needs. Furthermore, you'll want to ensure that it's well-maintained in order to optimize its performance.
Of course, HVAC systems won't last forever, so there will come a time when you need to have units replaced.
On average, an air conditioning unit can last for around 10-12 years, providing routine maintenance is undertaken.
However, you might decide to replace an HVAC system even when your existing setup is still operational. If you want to improve the air quality in your home or benefit from a more efficient setup,  replacing your HVAC unit could be advantageous.
HVAC Options
There are many different types of air conditioners and heating units, so you'll need to do some research before you decide what type of HVAC system is right for your property.
Similarly, you'll need to determine whether you're going to replace one unit or the entire HVAC system. A technical inspection can help you to get the detailed information you need before deciding which option is right for you.
While replacing an entire system requires a larger outlay, it can be more cost-effective in the long-term. If new units and ductwork are installed, you'll have peace of mind that your HVAC system is in top condition and optimal working order. In contrast, replacing only one unit means that other parts of your HVAC system could require on-going repairs.
Another aspect that will affect the cost of replacing an HVAC system is the type of units you choose. 
Get Expert Advice
Fortunately, you won't have to decide which HVAC replacement is best for your home without professional advice. If you're unsure what HVAC units are most suited to your property, an experienced technician can help you to access the information you need and explain exactly what your options are. With detailed quotes and expert knowledge, it's well worth seeking professional advice before you decide which elements of your HVAC system to replace.
How much does an HVAC replacement cost?
The cost of repairing or replacing an HVAC system depends on a number of factors.
The size of your property, the type of units, and your location can all impact the price you'll pay, for example.
On average, replacing the main units of your HVAC system will cost between $4,820 to $9,350.
However, it's important to remember that most properties can benefit from having the ductwork replaced too.
This increases the cost and duration of the job because ductwork is present throughout the property. Due to this, it can take around three to five days for your HVAC units and ductwork to be fully replaced. Ductwork installation on its own costs an average of around $2,000 to $3,0000. This increases the overall cost of an upgrade to an average of $6,820 to $12,350.
If you choose to replace and upgrade your heating, ventilation, and cooling system, the total cost can run to an average of around $13,000 to $17,000, although the exact price will depend on which upgrades you choose. If you decide to add a zoning system to the install, for example, expect to pay around $2,300 to $3,500 on top of the standard replacement costs.
Replacing Individual HVAC Units
If only one unit in your HVAC system needs to be replaced, it can reduce the cost by a considerable amount.
Replacing a central air conditioner can cost anywhere from $3,350 to $5,910, depending on the model you choose.
In contrast, a heating and AC combo typically ranges from $4,820 to $9,350, while electric furnace costs an average of $1,600 to $2,500. The average cost of replacing a boiler is typically around $1,500 to $3,500, while most homeowners will pay around $4,000 to $8,000 to replace an air-source heat pump.
Replacing Ductwork
In some instances, your HVAC units may be working optimally but the ductwork in the property is affecting how effectively the property is being heated or cooled. If so, replacing the ductwork can be a cost-effective way to enhance the functionality of the system.
The cost of ductwork replacement depends on the size of the property, as well as the ductwork you choose. On average, the cost of ductwork ranges from $35 to $55 per linear foot.
A standard single-family home usually requires 30-90 linear feet of ductwork, which means the average cost of replacing the ductwork in a property of this size runs from $1,000 to $5,000.
Short-Term vs Long-Term Costs
When you're deciding which units to replace or how much of your HVAC system to upgrade, it's important to consider the potential operating costs. A more energy-efficient system may be slightly more expensive at the start but you will save a significant amount in the long-term as operating costs are reduced.
Choosing the Right HVAC System
The right HVAC system improves the functionality of your property and enhances the safety of your home, so it's well worth getting professional advice before you decide which options are right for you.
Ultimately, cost shouldn't be a barrier when installing the best HVAC system within your home. With competitive financing plans available, you can ensure your HVAC replacement or upgrades meet your needs and the needs of your home.